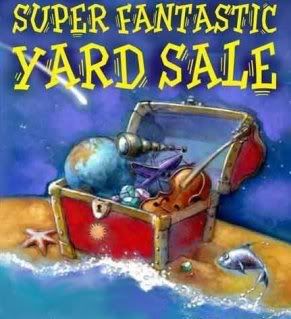 Every year my Mother and I have a yard sale to clean out totes and closets and make room for more "precious junk." Along with that, every single year I state that I have "never seen so many clothes for one little girl in my life" you would think by now that I would get the hint! I can't help it though, shopping for Miss Priss is probably one of my favorite things to do! I'm sure that all of you agree with this! Our sale is on Saturday, and there is a chance of rain but hopefully we will still have an awesome turn out being that I have advertised in the newspaper, myspace and facebook!
I took a break today from the yard sale items to go have my hair done =) I have finally found the color that I love..finally! I got highlights and low lights of a light brown, which worked perfect for my crazy thick head!
Tuesday night my Dad was asked to go help a friend move a bed, come to find out they gave me a sleep number full size bed. Yes, you did read that right! They did give me a bed, and it is a full size bed. I am now thankfully able to sleep on a bed comfortably! Wasn't that so very sweet of them?!
Yesterday I received this in the mail =)
Not the world's best two pictures of yours truly but look at that adorable Vera Bradley bag. Thank you
Kristen
so much, you will never know how thankful I am to not only receive this bag but know you through blog world =) You are a very wonderful woman and have inspired my life in so many ways through your blog and emails in this short time that we have came across one another blogs!
I have so many other things to post about but I'm wore out! Not to mention I have tons to do tomorrow before working third and yard sale saturday morning after work! Hope you ladies have had a wonderful week!