10. You believe in aerial spraying of Prozac and/or birth control over certain parts of your city.
9. Your idea of a good night involves someone getting shot, chased or dismembered.
8. You can carry om more than 4 conversations same time.
7. You have a long term telephonic relationship with one or more paranoid, schizophrenic, PTSD suffering people in your city.
6. You have forgotten what it's like to actually eat a warm meal.
5. You find humor in other people's misery.
4. You hear a fire engine or police car go screaming past your house and you wonder not what's happening, but who's going.
3. You can resume a conversation with co-workers 4 hours later, in mid sentence, and everyone know what you are talking about.
2. You have no idea what a holiday is, other than it's the day when everyone gets drunk and beats up their family members.

1. You truly believe that stupidity should be painful.
(FYI: you will probably only understand this if you are a dispatcher yourself or are in type of law enforcement, or ems. Either way, it gave me a good laugh!!)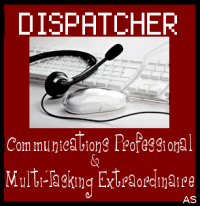 This Black Friday started out for my Mom, Krystina and I at the outlet malls in Lebanon, TN. They opened up at midnight, and it was pretty crowded but nothing like Walmart was at 5 am I am sure. We got some really good deals at Gymboree, and a few other places. We got home around 5:30 this morning, and I didnt leave the house except to get lunch for the rest of the day until the evening. Which our little town wasn't crazy, I was just exhausted! I think Black Friday is more of a excitement for my Family and I to get ready for the Holidays. I dont think there is any thing that valueable or that AWESOME to trample a man to death. In saying that, I am not sure if you guys have heard about that but if not look it up on MSN. What is wrong with people?? It says they are watching the security cameras to see if there was any criminal action taken place. Well DUH! Those people should be punished, they took a mans life for material items. Come on people...