I'm having kind of an emotional, missing Charli Beth day since I haven't seen her since last night. So I'm going to keep my Mommy Day post
extremely
short about her. We had to be at Western this morning after I got off work at 6 for their EMT testing. Boy O' Boy do I
pray
that our class does better than most of theirs did. I was wanting to scream at them and give them the answers. I know I will be nervous, but I hope that the Lord provides me the strength to get through the day and the registry. This is something that I want and need in my life.
If you would like to read an inspiring post, please read
Juliana
's post.
Growing up, I don't believe that I ever understood the meaning of this day. I thought it was just a special day to give my Mommy a present or maybe cook her breakfast. There is so much more to the meaning now that I have a child of my own. I never understood how much work goes into being a Mother. How no matter how bad your day is, your smile must let them know that everything is
okay
. No matter how tired you are, you shoulder must
be there
for them to lean against. There has
never
been a day that my Mom has never shown her love for me. Although, I have been that "teenage girl" with the attitude problem and thought that I was never to do any wrong. She loved me. I am so very thankful for this. I am thankful that she has stood by my side for the past 21 years, and been my best friend. There is no other friend like your Mother. I'll never forget my Mom being so very stressed after finding out that I was also going to become a Mother myself [she painted the bathroom cabinets in the middle of the night..funny story] but then 7 short months later, she was crying holding my hand and never happier. My Mother is my backbone, and my knees whenever I am weak. She has held me up so many times whenever I felt that I had nothing to go on for. Whenever I felt lonely with no friends around, she was the best company I could of ever asked for. I am so thankful for the two wonderful blessing the Lord has given me; My mother and my daughter. I know for a fact that my Mom doesn't like to be considered as a grandma, but that is what she is. She cannot deny this. lol. We know she isn't old, so she is our "Nana" (sometimes pronounced as "NAH-na" lol). Charli just loves her to pieces, and all of the wonderful things that she does for her. 6 nights out of the week, she is the one to put her to bed, takes her to church every Sunday morning and night, teaches her songs, and lets her eat the cake mix (even though I disagree with this,
darn salmonella
), and so much more! I've said this before this week, but I dont know where Char and I would be without our Nana. I am so thankful for the help that she gives to me and provides for Charli Beth, even if some days I am undeserving of the help.
Thank you Mom, for simply everything.
We love you 3 bushel baskets!

This is the best day of my life (aka. the day I became a Mommy!)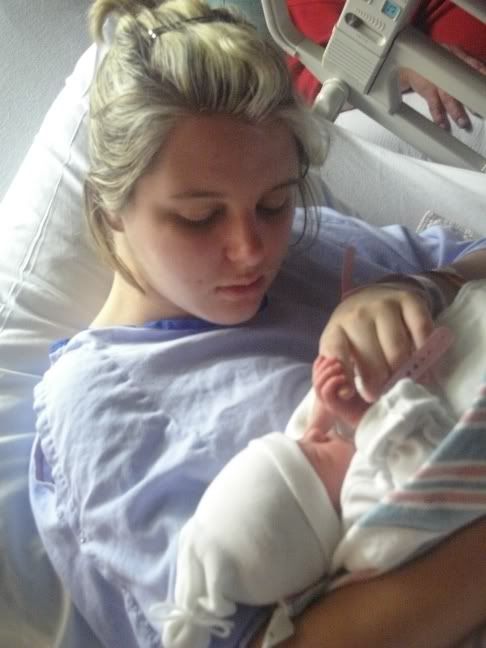 Please
do not
pay attention to how I looked, I really didn't care that day.
If there is ever a "next time", I promise my hair will be
pretty
and I
will
have on makeup.
Even though
I know it's not about that at all.
I hope all of the Momma's have a wonderful & blessed Mommy's Day!
Please pray for my Mom and Father to have a safe trip home from Gatlinburg in the morning also.